Thomas Bush lies on the western edge of the village, and there are plenty of tracks to explore on foot from the village. The Hogs Back Track also provides easy access along the foot of the Craigieburn Range for longer walks from the village including Long Spur up to Mt Cloudesley, which is a good day out with an ascent from the village of approximately 1400m.
Thomas Bush Tracks
There are a number of pleasant shorter walks directly accessible from the village through the native beech forest of Thomas Bush.
These include:
Leith Hill Track,
Thomas River & Thomas Bush Tracks,
Beech Forest Logging Track,
Water Intake Track.
In particular, the Leith Hill Track to a viewpoint on the side of Leith Hill (also known locally as "the Depression" or "sinkhole") offers great views back over the village and indeed the whole Castle Hill Basin. A return track along the south and east boundaries of Thomas Bush makes for a very enjoyable 2 hour loop.
Further afield
Within approximately 40 minute drive of the village lie a great variety of tramping options, including Bealey Spur, Hawdon Valley, Cass/Lagoon Track, Sudden Valley, Peak Hill, and many more.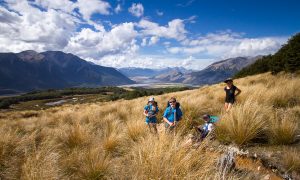 Bealey Spur
The 11km return walk to Bealey Spur Hut (an old 4-bunker with an open fireplace nestled in an open beech forest clearing) provides a relatively easy tramp past a number of small alpine tarns with stunning views to the peaks at the head of the Waimakariri River and across to those in Arthurs Pass National Park.